Why I'll Never Be Without A Hydrocolloid Pimple Patch Again
DISCLAIMER
This blog has not been approved by your local health department and is not intended to provide diagnosis, treatment, or medical advice. Read More

This blog has not been approved by your local health department and is not intended to provide diagnosis, treatment, or medical advice. The content provided on this blog is for informational purposes only. Please consult with a physician or other healthcare professional regarding any medical or health-related diagnosis or treatment options. Information on this blog should not be considered as a substitute for advice from a healthcare professional. The claims made about specific products throughout this blog are not approved to diagnose, treat, cure, or prevent disease.
In this article: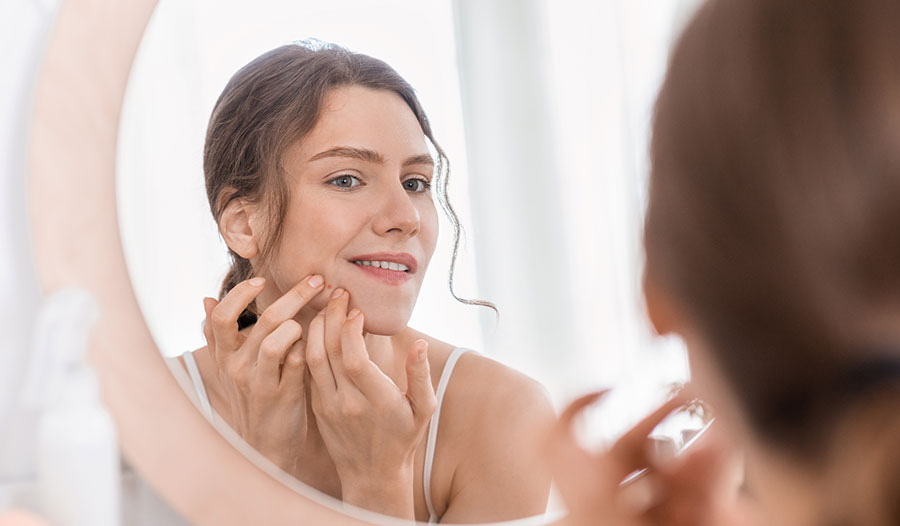 Acne scars, hyperpigmentation (dark spots), clogged pores, blackheads, even active acne/whiteheads —most of us experience at least one of these concerns, and for some of us, we deal with them daily. I personally get whiteheads, blackheads, hyperpigmentation, and acne scars. For me, all of those come in waves. I have tried serum after serum, extraction methods, cleansers—the works! The one product that just seems to fit my needs every single time is a hydrocolloid patch.
There are so many different hydrocolloid patches on the market today. You have some that are meant to purely suck out the excess sebum and oil from a whitehead or blackhead. You have some that can even puncture the skin to deliver concern-specific ingredients like salicylic acid for acne spots. And some have powerhouse ingredients like vitamin C, tranexamic acid, and niacinamide for issues like texture, dark spots, and acne scars.
I am a skincare lover through and through, but I will be the first to admit that on the majority of days, I am lazy. I want something that works, and doesn't irritate my skin. Hydrocolloid patches are literally risk-free. After washing your face, you simply take a patch of your choice and pop it on an area of concern, then go about your day freely.
When to Wear Hydrocolloid Patches
Hydrocolloid patches can work for any skin type, any age, and any lifestyle. I wear them day and night—under a mask while I am out and about, or all over my face while I am cleaning up around my home and playing my favorite new album and dancing around. My favorite way to wear them is when I go to bed because I can get maximum results while I sleep and not have to think twice about it. Another way I wear them is when I have a pimple or a more cystic spot that is under the skin, and I am wearing a mask for a long period of time. I can promise that if you catch me out in the day with a mask on, I more than likely have a hydrocolloid patch on underneath it.
"Maskne" has been such a huge issue for people globally since the pandemic hit. Masks sit against the skin for hours each day and trap in bacteria, sweat, and makeup (wearing makeup under masks isn't the best idea, just an FYI). If you have to wear a mask and want your skin to be protected from all of those irritants during the day, a hydrocolloid patch will quickly become your best friend. Maskne no more!
Favorite Hydrocolloid Patch Brands and Products to Try
Hydrocolloid patches are also super accessible now, with so many brands and products to fit so many needs, at a variety of price points.
Some of my favorite brands for hydrocolloid patches are Hero Cosmetics, Cosrx, and PanOxyl. If you struggle with clogged nose pores, or you feel like your nose area gets greasy or just too shiny for your liking throughout the day, then I recommend trying the Hero Cosmetics Mighty Patch Surface patches in particular.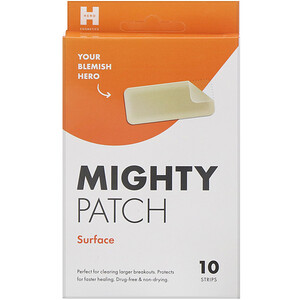 How to use it: Cleanse your skin thoroughly at night and use your favorite salicylic acid toner. Then, before applying your moisturizer, take one of the Hero Cosmetics Surface Mighty Patches and place it across your nose area. Finish the rest of your skincare routine and then go ahead and go to sleep. When you wake up, you'll see white spots on the patch from those clogged pores—sometimes the entire patch can even turn white. All that white in the patch is the excess sebum and oil trapped and pulled out onto the patch. Peeling that off in the morning is the most satisfying thing you will ever feel.
If you are also like me, and an avid skin picker, the spot-specific patches help prevent picking. When you have an urge to pick at a spot, or even if it is a spot that is possibly scabbed over, place a hydrocolloid patch on top of it before you even touch it. This is a safe space, we have literally all been there. Listen to me: No matter how good it feels to pop a good pimple or squeeze out a blackhead, it is not worth it. Picking those little spots can cause 10 times the inflammation you see and make a spot worse. It can even cause scarring in the skin, so once the gunk is all out, you will have a reminder scar left behind of where that simple whitehead was.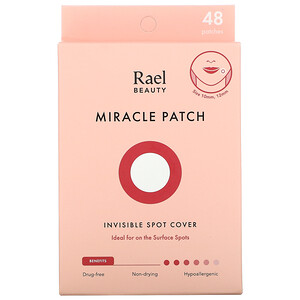 Picking your skin is a temporary fix. A hydrocolloid patch is quite literally the band-aid you never knew your face needed. Some brands even make some hydrocolloid patches thin enough you can wear them underneath makeup, like the Rael Miracle Patch Invisible Spot Cover. Crazy, right!?
Typical spot treatments on the market these days are filled with drying agents to choke out bacteria in acne spots, but what if you happen to already have dry skin? Products like those that contain benzoyl peroxide, sulfur, or salicylic acid could dry that spot out but also irritate and inflame the surrounding skin. Then you could be left with a dry, red, sore spot.
Hydrocolloid patches do quite the opposite on the way to reaching the end goal. They retrain your brain to focus on preventing more bacteria to enter the spot, while also soaking up the oil and sebum at the same time. It just seems so much more effective, doesn't it?
If you take anything away from this blog post, I hope it opens your mind up to all the possibilities that lie within skincare these days. You do not always have to use an aggressive and abrasive method when focusing on those areas of your skin that you don't typically enjoy—like that pesky pimple, or that acne scar, or dark spot.
If you suffer from any of those issues, I heavily recommend starting with a hydrocolloid patch. Treat yourself and give this amazing spot treatment method a try. You'll be just like me, and never be without a hydrocolloid pimple patch ever again.
More Hydrocolloid Acne Patches to Try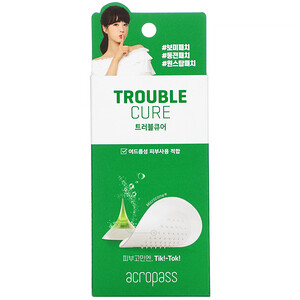 Acropass Trouble Cure Hydrocolloid Patches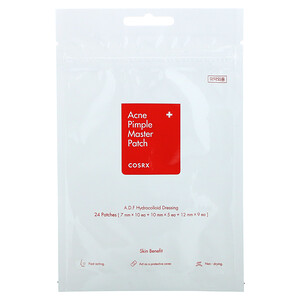 Cosrx Acne Pimple Master Patch